1
STUMPED!
This topic is locked
#21
Posted 23 May 2012 - 04:04 PM
Seems to be working great! No pop-ups, redirects and no curser freezeups! Thank
you sir!

---
#22
Posted 23 May 2012 - 04:19 PM
Good
Please Uninstall ComboFix:
Press the Windows logo key + R to bring up the "run box"
Copy and paste next command in the field:
ComboFix /uninstall
Make sure there's a space between Combofix and /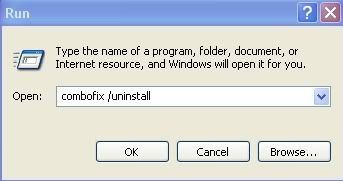 Then hit enter.
This will uninstall Combofix, delete its related folders and files, hide file extensions, hide the system/hidden files and clears System Restore cache and create new Restore point
---------------------------------
Run
OTL
and hit the
CleanUp
button. (This will cleanup the tools and logs used including itself)
Any other programs or logs you can manually delete.
-------------------------------
You have out date Java on the system, older versions are vulnerable to malware.
Please go to your control panels add/remove programs and uninstall these:
Java Auto Updater
Java™ 6 Update 32
Java™ SE Runtime Environment 6
Then download and install the latest version Java™ 7 Update 4.
http://www.java.com/...load/manual.jsp
<---latest version
http://www.java.com/...d/installed.jsp
<---verify your Java
-----------------------------------
Any questions...please post back.
If you think I've helped you, please leave a comment > click on my avatar picture > click Profile Feed.
Take a look at
My Preventive Maintenance
to avoid being infected again.
Good Luck and Thanks for using the forum, MrC
Malware Removal Expert

I volunteer my free time to help you,

if you would like to donate to show your appreciation, it will be much appreciated.

Thanks
MrC & crew
---
#23
Posted 24 May 2012 - 07:23 AM
Glad we could help.
If you need this topic reopened, please send a Private Message to any one of the moderating team members. Please include a link to this thread with your request. This applies only to the originator of this thread.
Other members who need assistance please start your own topic in a new thread. Thanks!
~Maurice Naggar

I close my threads if there is 5 days without a response.
---
---
---
1 user(s) are reading this topic
0 members, 1 guests, 0 anonymous users