OK, sometimes that's all you can do.
Clean up the system first:
Please Uninstall ComboFix:
Go to start > run and copy and paste next command in the field:
ComboFix /uninstall
Make sure there's a space between Combofix and /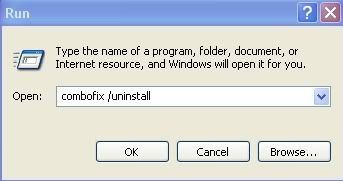 Then hit enter.
This will uninstall Combofix, delete its related folders and files, hide file extensions, hide the system/hidden files and clears System Restore cache and create new Restore point
Please download
OTL
from one of the links below:
http://oldtimer.geekstogo.com/OTL.exe
http://oldtimer.geekstogo.com/OTL.com
Save it to your desktop.
Run
OTL
and hit the
CleanUp
button. (This will cleanup the tools and logs used including itself)
Any other programs or logs you can manually delete.
Any questions...please post back.
If you think I've helped you, please leave a comment > click on my avatar picture > click Profile Feed.
Take a look at
My Preventive Maintenance
to avoid being infected again.
Good Luck and Thanks for using the forum, MrC