Once you get the BartPE disk burned to a CD (no, I'm not posting a link to a download here), and get your computer started up off of it, you will get a message asking if you want to enable networking support. Tell it
no
.
Now, click the 'GO' button, and navigate through the menus until you reach "Check Disk" like in the picture below: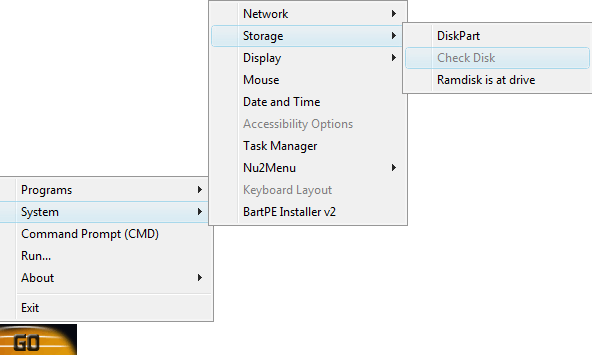 Click on "Check Disk", and you should have a black window pop up with some white text. The white text will look like this:

It wants to know what drive, so I'll assume drive C. Type in the letter
C
followed by a
:
and make sure to press enter afterwards.
Example:
C:
Now it wants more information. It will ask this:

Type
n
for no (obviously you'll want to press enter after typing
n
). Usually you don't need to do a full sector scan.
And again it will be wanting more info. Here's what it should say:

This is a silly question. Make sure you type
y
for yes (pressing enter afterwards once again), otherwise it will cancel the disk check.
Now you're at the last step. It'll give you the following information:
It's basically telling you what you just told it. You want to run a check disk on drive C and fix errors on the disk. Tell it
y
for yes (yeah, press enter again), and it should start the check disk.